Main image
Click to view image in fullscreen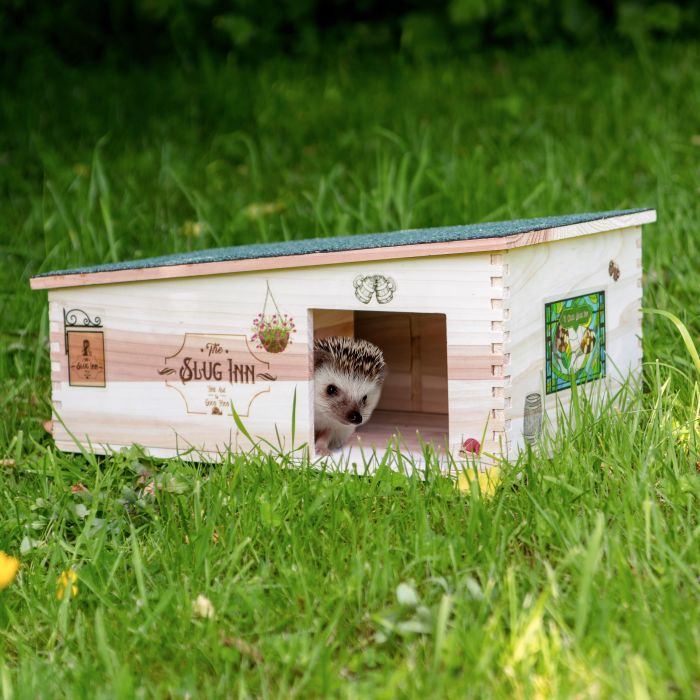 Wildlife house -The Slug Inn Hedgehog House
Wildlife house -The Slug Inn Hedgehog House is available to buy in increments of 4
Bring the den into your garden with our awesome 'Slug Inn' wildlife house! This is a great way to help local wildlife, providing a dry meeting point for hedgehogs whilst pimping up your garden! Watch as The Slug Inn becomes the new cool hotspot for all kinds of creatures in your back garden! Inspired by your local boozer, The Slug Inn is made from FSC sourced wood, and features a removable roof for cleaning after 'last orders', and a inner wall to protect against predator paws. This is an eco-friendly and weather resistant garden ornament and animal home, making it the perfect novelty gift for any nature-loving family and friends - remember...what happens in The Slug Inn, stays in The Slug Inn!
TRIP DOWN TO YOUR LOCAL - Inspired by your classic pub, 'The Slug Inn' wildlife house makes a great home for local animals.
GETTING STICKY WITH IT - This hedgehog house is complete with waterproof stickers that can be used to deck our your new backyard boozer!
STURDY STAY - Made from quality FSC sourced wood, and featuring a quality predator-proof base, our wildlife hideouts are safe and sturdy - suitable for all animals!
GREAT GIFT FOR GREEN FINGERED FRIENDS! - As a unique take on the classic wildlife house, this makes a great novelty garden accessory or a fun gift for any nature-loving friends and family on their birthday, Mother's day or Christmas!
Depth : 49.00 cm
Height : 7.00 cm
Width : 30.00 cm