Main image
Click to view image in fullscreen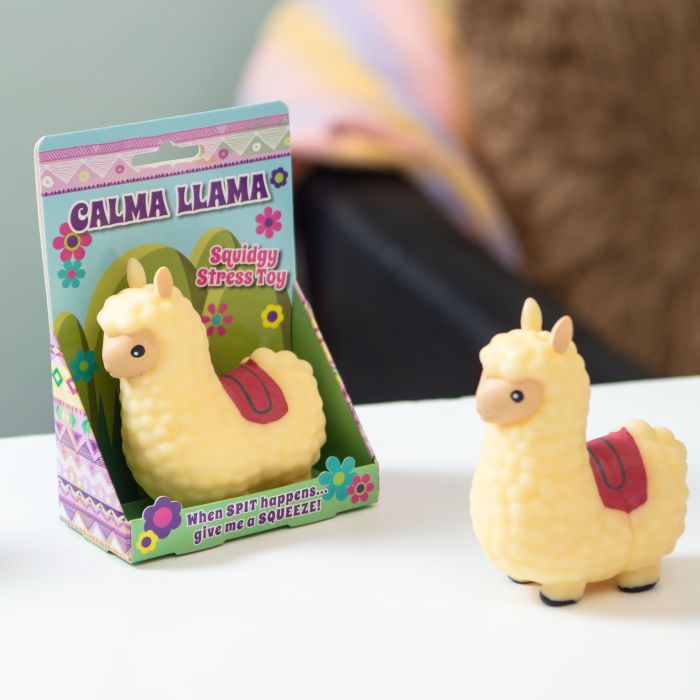 Stress Toy - Calma Llama
Stress Toy - Calma Llama is available to buy in increments of 12
Love llamas? Feeling stressed? This llama stress toy will not only help you free yourself of stress and drama but leave you feeling like a calma llama. Made out of silicone, this llama is strong enough to endure any stretching, squeezing and throws across the room, and will continue to smile throughout. A brilliant and funny novelty gift complete in colourful cartoon gift packaging for llama lovers and stressheads alike on their birthday or as a perfect secret Santa or stocking filler. Not suitable for children under three years. Great to place on your desk or in your handbag for when 'Spit' happens.
DE-STRESS IN STYLE – Love llamas? Feeling stressed? Grab this cute Calma Llama toy for effective stress relief! More fun than stress balls, this squishy toy is the best anxiety relief gift for her!
GREAT LLAMA GIFT FOR HER – Whether it's for a birthday, Mother's Day or a fun stocking filler at Christmas, this fun squishy fidget toy is the perfect llama gift for any stressed out friend!
FUN STRESS & ANXIETY RELIEF – Stress balls for adults don't have to be boring. Our squishy llama toy is perfectly sized so you can fidget and squeeze on the go to help with stress and anxiety relief!
GREAT SECRET SANTA GIFT - Searching for small, fun gifts for colleagues? This novelty llama stress toy makes a funny secret santa gift for any stressed out colleague in need of mindfulness the office!
FUN DESK ACCESSORY - In need of some desk toys? How about a cool stress ball? Great for when you're stressed or bored at work, our anxiety toys make perfect novelty desk accessories for women!
Depth : 14.00 cm
Height : 5.00 cm
Width : 10.00 cm