Main image
Click to view image in fullscreen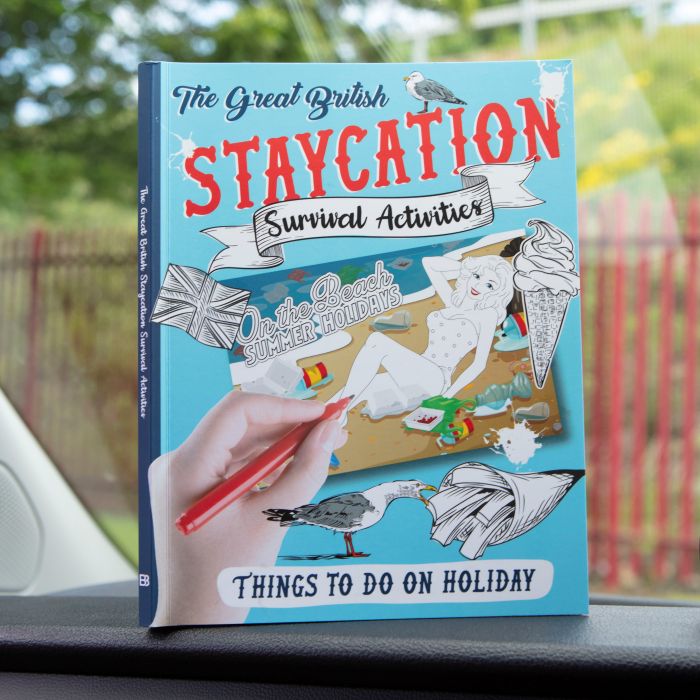 Staycation Survival Activities - Book
Staycation Survival Activities - Book is available to buy in increments of 12
All-inclusive trip to Benidorm cancelled? Spending the summer holidays stuck in soggy, boring old Britain? Slap on some sunscreen, dig out that bucket and spade and get ready for the staycation of a lifetime with this cheekily cheerful activity book for adults! 96 coloured pages stuffed to the brim with hilariously rude Britain-themed mazes, puzzles, and colourings will make travelling abroad a thing of the past! With amusing activities such as draw the bird poo on a bald man's head, create your own camping rules and design your very own mankini; this funny paperback book is a necessity when stuck in a traffic jam or queueing for the loo. Perfect for disappointed holiday-goers, this vacation survival book is the ultimate novelty souvenir gift! (Don't forget to pack your umbrella…)
HOLIDAY SURVIVAL ACTIVITY BOOK – This hilariously rude puzzle book has 96 coloured pages jam-packed with the best holiday themed mazes, puzzles and colourings, perfect for entertainment on a rainy day trip to your local seaside!
STAYCATION THEMED PUZZLES – With cheeky activities such as colour in dad's socks and sandals, find the public toilets, name the donkeys and design your own Punch and Judy puppet show, this paperback book will put a sunny smile on everyone's face!
SUPER SOUVENIR BOOK – The perfect book for adults, this British holiday themed activity book is the ultimate souvenir gift!
PERFECT FOR ALL OCCASIONS - The Staycation Survival Activity book is perfect for amusement during traffic jams and queues for the loo. No matter what the weather forecast tells us, this book is sure to entertain you to no end this summer!
DIMENSIONS – 15.8 x 20.5 cm (Toilet not included!)
Depth : 15.80 cm
Height : 20.50 cm
Width : 1.00 cm