Main image
Click to view image in fullscreen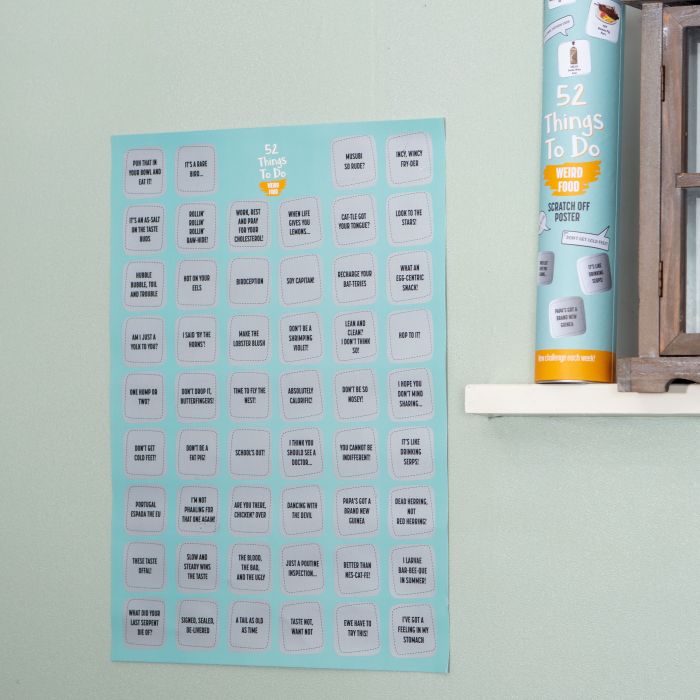 Scratch off - 52 Things To Do Weird Food
Scratch off - 52 Things To Do Weird Food is available to buy in increments of 6
Got a foodie friend? Know someone who wants to be a little more adventurous with their tastebuds? Our awesome and interactive Scratch Off 'Foods to Try from Around the World' is a great gift for friends and family wanting to get experimental with what they eat! from delicious delicacies to surprising snacks, this poster is a great bucket list for food lovers!
FOODIES GALORE - This fun scratch off 'Foods to Try from Around the World' poster is filled with popular, interesting and unusual foods to taste from all over the globe!
INTERACTIVE - With an interactive scratch-off style finish, watch as your poster changes whilst you eat your way through the foods!
DELICIOUS DESIGN - Filled with awesome custom illustrations, this poster is a great graphic feature in any home!
PERFECTLY PACKAGED - Coming in a protective gift tube, this poster is pre-packed to make the perfect gift!
GREAT GIFT FOR FOODIES - Whether you're looking for a birthday gift for him, or a fun stocking filler for a friend or family member, this is the perfect fun novelty gift for any occasion!
Depth : 6.00 cm
Height : 33.00 cm
Width : 6.00 cm