Main image
Click to view image in fullscreen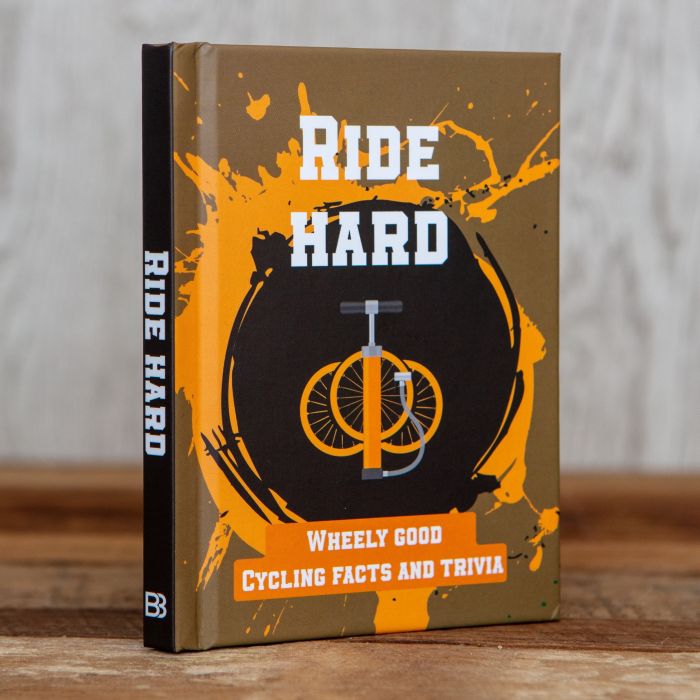 Ride Hard - Cycling Book
Ride Hard - Cycling Book is available to buy in increments of 12
Think you know all there is about cycling? Gear up and ride on with this exciting hardback book! Bursting with wheely awesome facts, stories and trivia from the inspirational and interesting, right to the downright bonkers! Do you know how cycling aided in the invention of airplanes? How much food a Tour De France cyclist eats? Or how bicycles aided in women's rights? With this 96 page book, you're sure to be the next Tour De France champion! The Ultimate gift for a cycling fanatic on their Birthday, Father's Day or as a Secret Santa at Christmas!
IMPRESS YOUR MATES – With hilarious stories, unbelievable facts and interesting trivia, your mates are sure to be impressed by your knowledge on all things cycling!
PEDAL PACKED FUN – With 96 coloured pages, this hardback book has everything you need to become the ultimate cycling fan!
A BRILLIANT GIFT FOR HIM – Whether you're buying for your bike loving dad, husband, friend or colleague, they're sure to love this geared up gift
SANTA LOVES CYCLING TOO – This bicycle-themed book is perfect for all occasions including Birthdays, Father's Day and even as a Secret Santa at Christmas!
Depth : 13.70 cm
Height : 2.50 cm
Width : 10.00 cm