Main image
Click to view image in fullscreen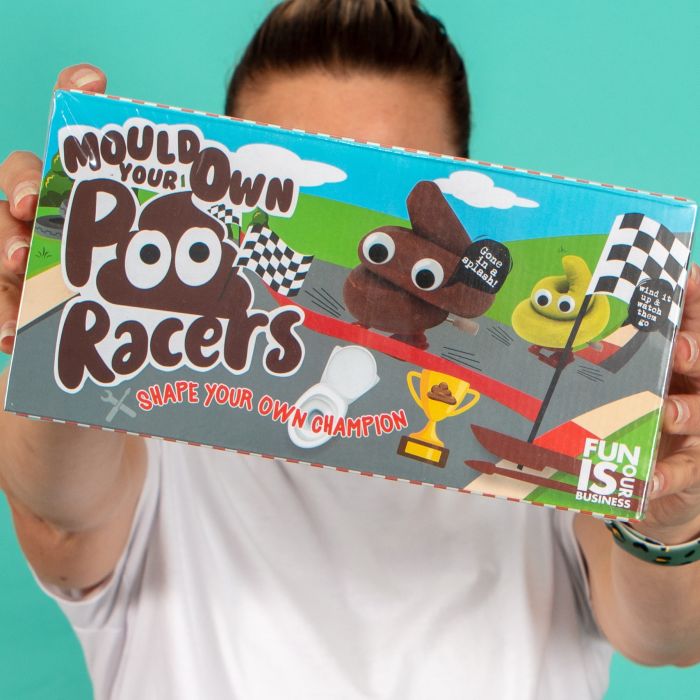 Poop Racers Game
Poop Racers Game is available to buy in increments of 6
Ready, steady, go!
Make the perfect poo and race to the loo with this creative modelling dough set! With tools, playdough and wind-up feet included, mix your favourite colour consistency, mould it onto the feet and GO! GO! GO! This fun dough set also comes complete with fun box packaging, which doubles into a race track to race your final creations! The first poo to plop into the loo is the winner! A fun activity for children and adults alike, this is the perfect crafty game for Birthdays, Christmas and family games night!

[ RACE TO THE LOO ] - This hilarious poo themed playdough modelling set that allows you to race your creations! Mould your poop, wind it up and race to the loo!
[ MAKE THE PERFECT POOP ] - Mix the dough together to get your perfect poo colour and shape! With hours of fun guaranteed, you might poop yourself with excitement over this game!
[ POOP-TASTIC CONTENTS ] - 4 modelling tools, googly eyes, 2 wind-up feet, 5 tubs of dough, box which doubles as a race track.
[ PERFECT POOP THEMED GIFT ] - The perfect activity for children and adults alike, this crafty toy makes the perfect birthday or Christmas gift for any boy or girl!
[ GREAT GAME FOR FAMILY NIGHTS ] - This poop themed playdough set makes the perfect game for family nights! Build your own poops and race against family members to be crowned king or queen of the toilet!
Depth : 24.00 cm
Height : 5.00 cm
Width : 12.00 cm