Main image
Click to view image in fullscreen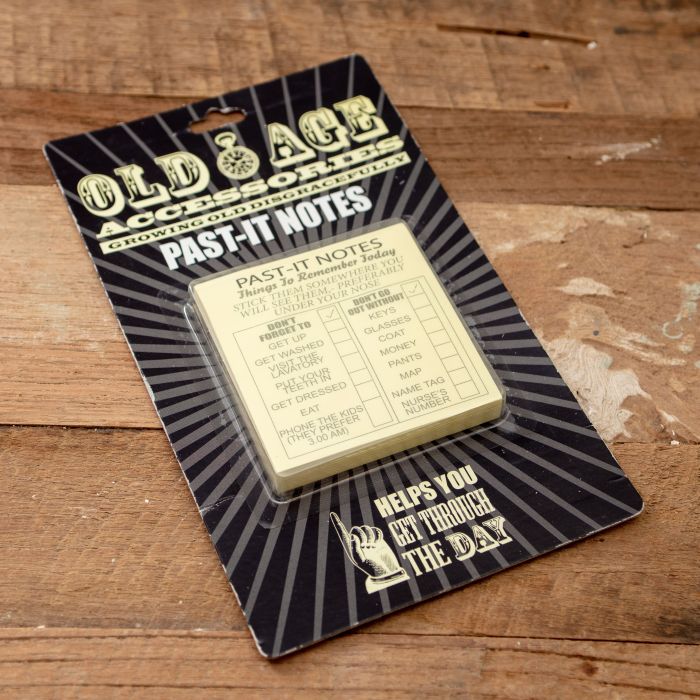 Old Age - Past-It Notes
Old Age - Past-It Notes is available to buy in increments of 12
Know an older person with a bad memory and/or sense of humour? Then say hello to their perfect gift - the Old Age Accessories Past-It Notes! Great for a friend or family member who likes to remember to laugh everyday - as well as put their teeth in!

With reminders such as 'Get Up', 'Put Your Teeth In' and 'Don't Go Out Without Pants' - they're the very funny but very useful 'getting older gift'!

This Past-It themed pack of Post-It notes are the perfect memory aid for that forgetful older person we all know and love.
WHO AM I? WHAT AM I DOING HERE? – Find yourself asking these questions? Memory like a goldfish? Sorry to break it to you, you old git but you're losing your marbles! Grab your past-it notes and never forget your essentials again!
NEVER FORGET YOUR ESSENTIALS – Perfect formulated and designed for old gits, these past-it notes ensure that you never forget essentials such as 'get washed' and 'put your teeth in' ever again!
HILARIOUS OLD AGE GIFT – Get a friend, family member or colleague approaching a milestone age? Whether it's for a 40th, 50th or 60th birthday, retirement, Christmas or secret santa, these hilarious joke pants make a great gift that's sure to make them laugh!
LETS GET REAL – This is a novelty, joke shop product and is unlikely to make much of a difference to your hearing so don't blame us when the grandkids continue to shout at you for being deaf!
Depth : 21.00 cm
Height : 3.00 cm
Width : 12.00 cm