Main image
Click to view image in fullscreen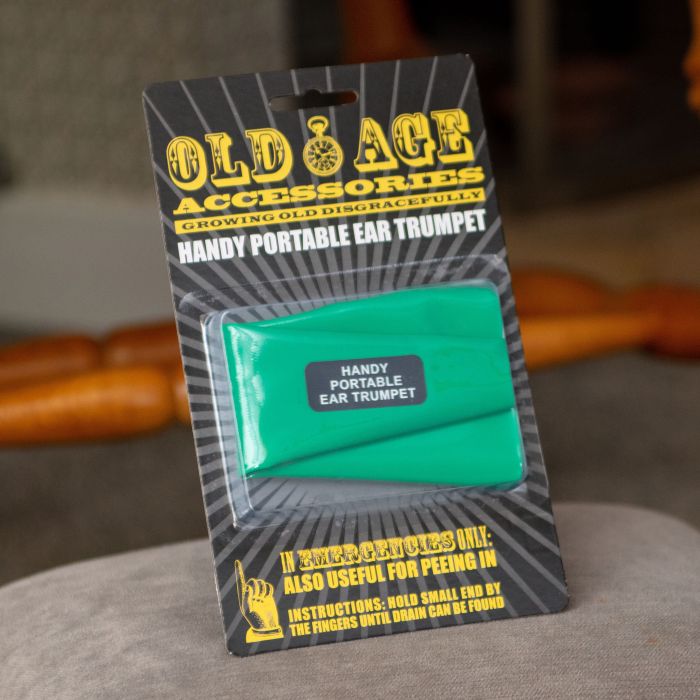 Old Age - Ear Trumpet
Old Age - Ear Trumpet is available to buy in increments of 12
Know an older person with bad hearing and/or a good sense of humour? Then say hello to their perfect gift - the Old Age Accessories Handy Ear Trumpet! Perfect for a person who can see the funny side of old age (even if they can't hear it!).

It's the perfect 'getting older' gift that helps that hard of hearing older person we all know keep abreast of what's going on, wherever they are!

What's more, it can also double up as an emergency toilet - just pinch the end and wee away. Only remember to empty it before using as an Ear Trumpet!
WHAT DID YOU SAY? – What was that? What did she say? If you find yourself saying that more often than usual then I'm sorry to break it to you but you're getting old, very old! Grab your novelty ear trumpet and show your true age!
HILARIOUS OLD AGE GIFT – Get a friend, family member or colleague approaching a milestone age? Whether it's for a 40th, 50th or 60th birthday, retirement, Christmas or secret santa, these hilarious joke pants make a great gift that's sure to make them laugh!
LETS GET REAL – This is a novelty, joke shop product and is unlikely to make much of a difference to your hearing so don't blame us when the grandkids continue to shout at you for being deaf!
Depth : 21.00 cm
Height : 3.00 cm
Width : 13.00 cm