Main image
Click to view image in fullscreen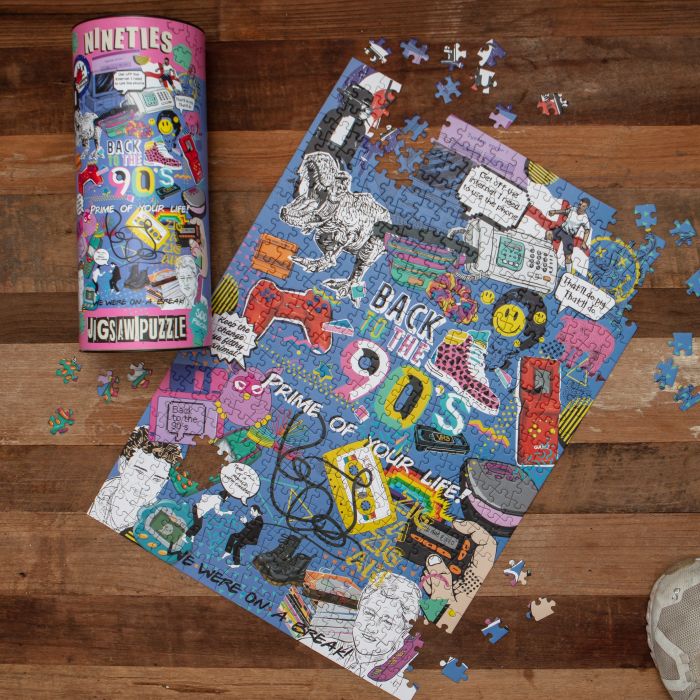 Nineties - Better In My Day Jigsaw Puzzle
Nineties - Better In My Day Jigsaw Puzzle is available to buy in increments of 3
Do you miss the time before the internet, when life was simpler? Party like it's 1999 with this nostalgic and colourful 5 pcs 199s themed jigsaw, complete with plenty of iconic images from the decade to reminisce about! Watch as you begin to build Justin Timberlake's bleached perm, connect the pieces to form a Furby and piece together a Gameboy whilst thinking to yourself – was it really better in my day? This colourful jigsaw is presented in a premium, unique cylindrical gift box to make it the perfect gift for any individual wanting to reminisce about the good old days!
BACK TO THE 90s – This 500 piece jigsaw comes packed full of images sure to flood your memory of events from this iconic decade! From scrunchies to slinkies, Blur to bumbags, this nostalgic puzzle is perfect for anyone obsessed with this legendary decade!
NINETIES BABY – This puzzle makes the perfect gift for both men and women wishing to jog some memories of the Nineties!
UNIQUE PACKAGING – This 500 piece jigsaw comes in a unique, colourful and high quality cylindrical gift box, making it a great contribution to any jigsaw collection!
BRIGHT DESIGN – Complete with premium quality printed images, this jigsaw could be framed once completed to make a bright and retro poster-style addition to any home!
Depth : 11.50 cm
Height : 27.50 cm
Width : 11.50 cm