Main image
Click to view image in fullscreen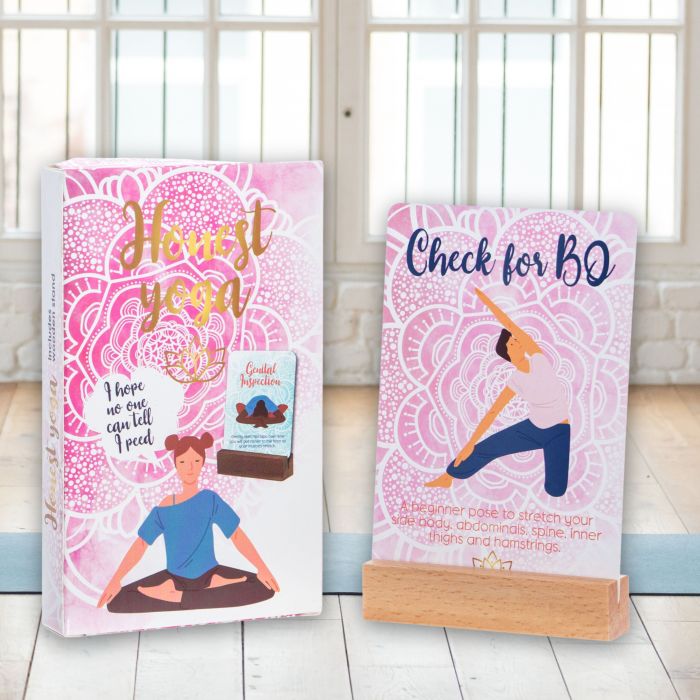 Honest Yoga - Daily Cards
Honest Yoga - Daily Cards is available to buy in increments of 12
Is boring old yoga making you yawn? Does the word 'fun' feel like a bit of a stretch? Get physical the honest way with this hilarious and instructional set of novelty yoga cards! These 52 pose cards include cheeky new names, modern illustrations and fun information on everyone's favourite yoga positions! Whether you prefer the "Check for BO", "Existential crisis", or "I'm a slug" pose, you can namas-take your favourite cards and display them around the home with your very own included card stand! Complete with a funny yet beautiful foil-detailed gift box, you don't need to bend over backwards when it comes to gift buying for your yoga-loving friends; Perfect as a novelty gift for yoga beginners on Birthdays, Mother's Day or as a Secret Santa for her at Christmas!
YOGA MADE FUN – Who said yoga had to be boring? With this hilarious set of novelty yoga pose cards, you can get fit while having a laugh.
HONEST POSES – 52 joke, yet brutally honest yoga poses we can all relate to (maybe?), like licking your knee, playing dead or letting go of an inevitable fart!
PRACTICE YOUR POSITIONS – With cheeky names, modern illustrations and insightful information, these informative cards can be placed around the home with an included wooden stand.
OM-MAZING GIFT FOR HER – Whether it's a funny birthday gift or a cheeky secret santa, these cards are the perfect gift for your yoga loving friend, mum or colleague (Whether they're a beginner or a pro at meditation!)
DON'T STRETCH YOUR BUDGET - With a beautiful foil-detailed gift box these cards are perfect for Birthdays, Mother's Day or as a Secret Santa at Christmas!
Depth : 15.00 cm
Height : 2.00 cm
Width : 9.00 cm