Main image
Click to view image in fullscreen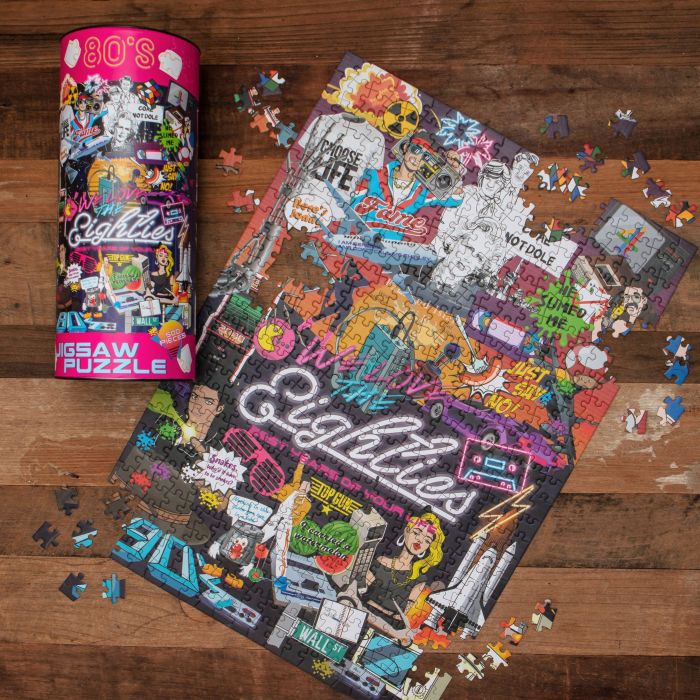 Eighties - Better In My Day Jigsaw Puzzle
Eighties - Better In My Day Jigsaw Puzzle is available to buy in increments of 3
Are the 198s your favourite decade? This colourful, 8s themed 5pc jigsaw gives you the chance to mullet over! Featuring a design packed full of images sure to make any Eighties fanatic feel nostalgic. Connect the pieces to see iconic 8s favourites, from Freddie Mercury to Space Invaders, come together to create a fun retro themed poster-style image! Presented in a premium, unique cylindrical gift box, this jigsaw makes the perfect gift for men and women wanting a throwback to their childhood!
EIGHTIES NOSTALGIA – This 500 piece themed jigsaw is filled with culture, music and tv icons, from Michael Jackson to legwarmers to mullets, this colourful jigsaw puzzle is made for anyone who is obsessed with this legendary decade!
THE PERFECT 80s GIFT – Packed full of nostalgic pictures, this puzzle makes the perfect gift for both men and women wishing to bring up some memories of the Eighties!
UNIQUE PACKAGING – This 500 piece jigsaw comes in a unique, colourful and high quality cylindrical gift box, making it a great contribution to any jigsaw collection!
BRIGHT DESIGN – Complete with premium quality printed images, this jigsaw could be framed once completed to make a bright and retro poster-style addition to any home!
Depth : 12.00 cm
Height : 28.00 cm
Width : 12.00 cm