Main image
Click to view image in fullscreen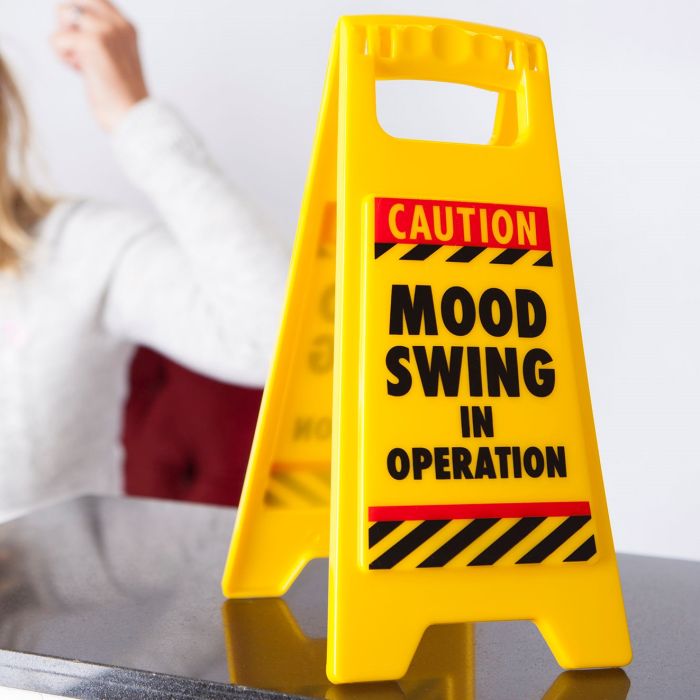 Desk Warning Sign - Mood Swing
Desk Warning Sign - Mood Swing is available to buy in increments of 12
Prepare to scare with this hilarious mood swing warning sign. Bright yellow and small enough to sit on your desk, this lifelike plastic caution sign will warn your work colleagues about your cranky mood, and let them know how grumpy and irritable you are. Perfect as a funny novelty gift to treat yourself or the moody person in your life. A brilliant office gift all year round.

Who said you had to be happy and joyful 24/7?
WORK STRESSING YOU OUT? - Feel like you're about to spontaneously combust into a mental breakdown? Warn your colleagues away with this fun desk accessory! It's also a great gift for colleagues!
FUNNY GIFT FOR WIFE OR GIRLFRIEND - Looking for funny wife gifts? Or maybe joke gifts for girlfriend? Look no further than this novelty sign! The perfect joke gift for women on birthdays and Christmas
HILARIOUS JOKE MENOPAUSE GIFTS – Someone you know started the dreaded menopause? Feeling brave and looking for funny menopause gifts? Let them have their hot flush in style with this novelty desk sign
STOCKING FILLER FOR MOODY TEENAGERS - In need of some silly gifts for teenagers? If you've got a moody teenager of your own, grab them this joke sign so they can warn others of their mood swings
SECRET SANTA GIFTS FOR HER - Looking for hilarious secret santa gifts for her? Whether it's for your mum, sister, wife or girlfriend, this desk sign makes the perfect rude secret santa gift for women!
Depth : 25.00 cm
Height : 2.00 cm
Width : 13.00 cm