Main image
Click to view image in fullscreen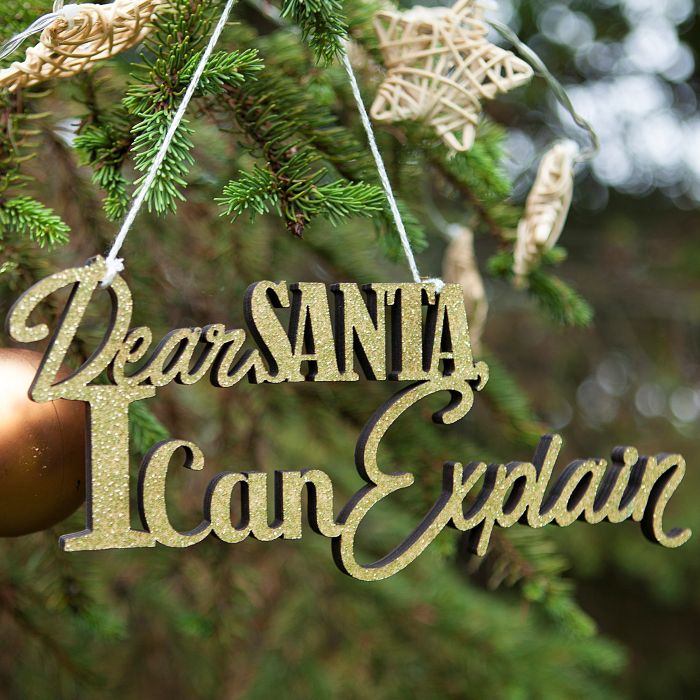 Chatterwall Xmas - Dear Santa
Chatterwall Xmas - Dear Santa is available to buy in increments of 4
Decorate your home in style this Christmas with this glamorous wooden wall plaque, while making sure Santa brings you lots of presents! With bright and sparkly gold glitter, this beautiful ChatterWall sentiment "Dear Santa, I can explain" is sure to make the home merry and festive! Presented in an open sided gift box, this seasonal phrase made from laser cut wood can be attached to a wall, hung on your tree or even placed on your mantelpiece. A gorgeous occasional homeware, sure to add a sparkle to your Christmas! Dear Santa, I really can explain…
Add a blast of glitzy glamour into your home this Christmas with this fun and sparkly Chatter Wall wooden plaque.
This sumptuous Gold glitter engulfed sentiment "dear Santa, I can explain" Is presented in an Open sided gift box
This popular phrase made from Laser cut wood can be hung on your wall or tree, stuck onto your wall or can stand freely and will be the centre of attention in your home, leaving your friends and family speechless
The perfect gift for a perfect home this Christmas. Get chatty with our chatter wall range.
Depth : 24.00 cm
Height : 2.00 cm
Width : 16.00 cm