Main image
Click to view image in fullscreen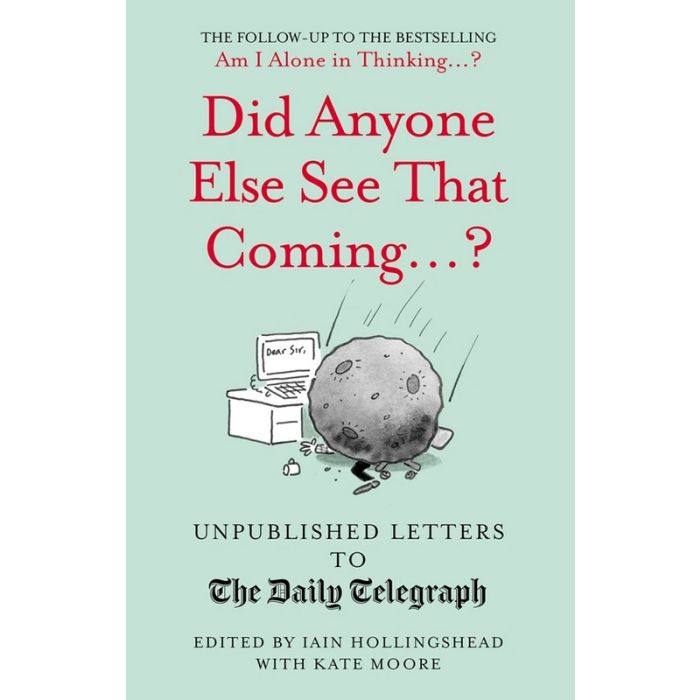 Did Anyone Else See That Coming?
Did Anyone Else See That Coming? is available to buy in increments of 6
A year in review made up of the wry and astute observations of the unpublished Telegraph letter writers.
Readers of theTelegraphLetters Page will be fondly aware of the eclectic combination of learned wisdom, wistful nostalgia and robust good sense that characterise its correspondence. But what of the 95%of the paper's huge postbagthat never sees the light of day? Some of the best letters inevitably arrive too late for the 24/7 news cycle, or don't quite fit with the rest of the day's selection. Others are just a little too whimsical, or indeed too risque, to publish in a serious newspaper. And more than a few are completely and utterly (and wonderfully) mad. ThankfullyIain Hollingshead is on-hand to give the authors ofthe best unpublished letters thestage they so richlydeserve. Baffled, furious, defiant, mischievous, they inveigh and speculate on every subject under the sun, from the rubbish on television these days to the venality of our MPs.With an agenda as enticing as ever the ninthbook in the bestselling Unpublished Letters series will prove, once again, that theTelegraph'sreaders have an astute sense of what really matters.
PAGINATION 28
FORMAT HB
New book for Autumn 219!!
Depth : 18.40 cm
Height : 2.10 cm
Width : 11.00 cm