Main image
Click to view image in fullscreen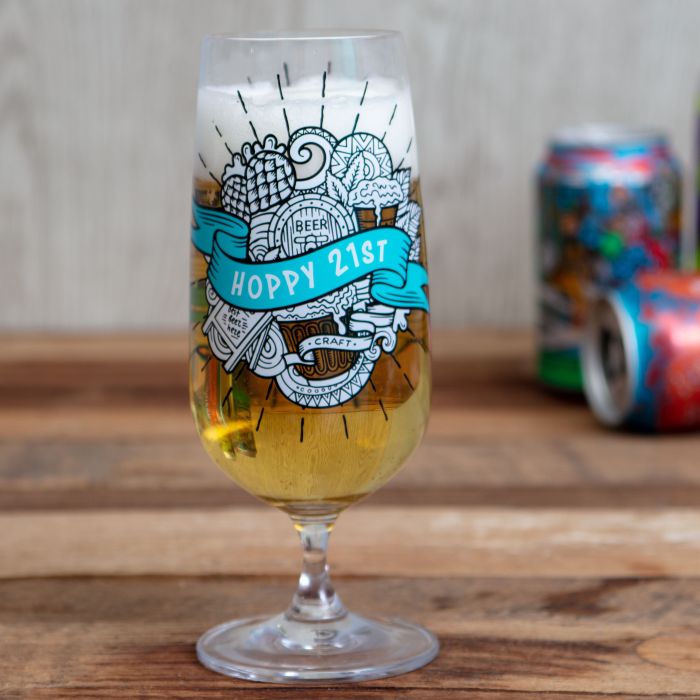 21 - Craft Beer Glass
21 - Craft Beer Glass is available to buy in increments of 6
Wish him a hoppy birthday with this decorated celebratory craft beer glass! Presented in a premium patterned gift box, this tulip-shaped beer glass is covered in high-quality illustrations reminiscent of your favourite craft beer designs! Also featuring a celebratory '21', this beer glass makes the perfect gift for him on his 21st birthday, ensuring anyone can sip with style on their special day!
GET CRAFTY WITH GIFTING – This premium craft beer glass is covered with awesome 'Hoppy 21st' birthday themed designs and illustrations to mirror the coolest of craft beer cans – great for any beer-loving buddy!
CRAFTY GLASSWARE – Printed onto a modern-shaped tulip glass, this 21st birthday craft beer glass is the ideal shape, so any beer lover can sip with style!
BOOZY BOX – Presented in high-quality matching open box packaging, this beer glass makes a great novelty glassware gift!
THE IDEAL 21ST BIRTHDAY GIFT FOR HIM! – Featuring sentiments to celebrate their milestone birthday, this beer glass is sure put a smile on any beer-lover's face, whether it's your brother, friend, nephew or son!
Depth : 7.80 cm
Height : 17.50 cm
Width : 5.00 cm