Main image
Click to view image in fullscreen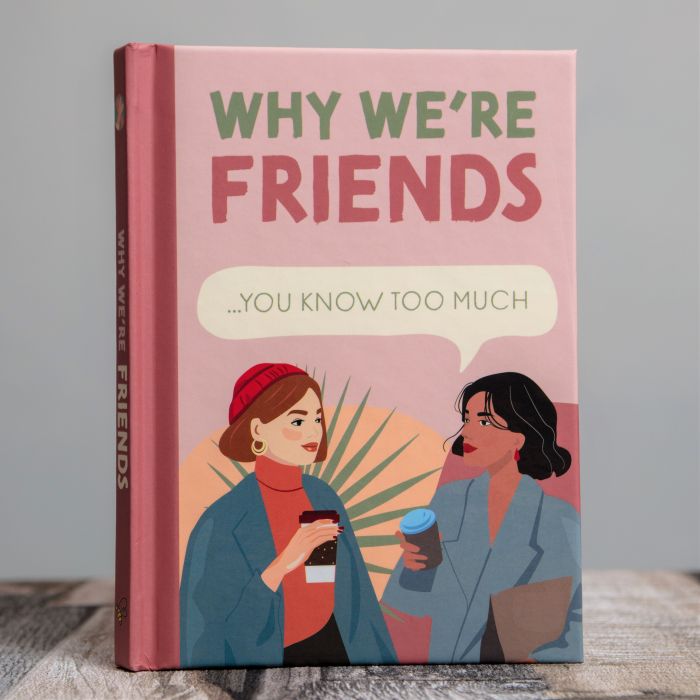 Why We're Friends - You Know Too Much
Why We're Friends - You Know Too Much is available to buy in increments of 6
Sometimes your best friend just knows too much about you, and that's exactly why you will be friends for life! Why We're Friends is a gorgeous fun gift book filled with funny, heartfelt and honest quotes about friendship from famous faces through history, perfect as a bestie book for any special person in your life!

With quotes from people including Winnie the Pooh, Nicole Ritchie and C.S. Lewis, amongst many others, you can really show your bestie how much they mean to you with this fun and sentimental gift book.

With 96 pages of heartfelt quotes and gorgeous illustrations, all within a fun and quality hardback cover, this gift book is the perfect cute gift for her, either as a gorgeous best friend birthday gift, as a secret santa gift, or a warming Christmas present for your best friend, sister, mother, or anyone who you love (and who knows EVERYTHING about you!)
JUST BETWEEN US - This hilarious gift book is filled with best friend quotes and jokes that perfectly summarise exactly why we're friends...it's because they just know too much!
BESTIE BOOK - Filled with friendship quotes and illustrations from Mark Twain, Maya Angelou, Winnie the Pooh and many more, this heart-warming best friends gift book will put a smile on anyone's face!
GREAT BEST FRIEND GIFT - With funny, touching and sentimental quotes, if you are looking for best friend birthday gifts, or cute stuff for her on a special occasion, this bff book is perfect!
FRIENDS FOR LIFE - With 96 pages of warming quotes and relatable statements about friendship, this funny gift book has something for all friendships, making it a great best friend book!
GORGEOUS GIFT - If you're looking for best friend gifts for women, friendship gifts for your day 1's, or a sentimental birthday or secret santa gift, Why We're Friends will brighten anyone's day!
Depth : 14.40 cm
Height : 1.10 cm
Width : 10.50 cm